Free CoderBunnyz Coding Curriculum
Introduction - Coding Concept/Lesson - Read this First
     Lesson 1:      Learning Sequence
     Lesson 2:      Learning Branch, Jump ( ), goto ( )
     Lesson 3:      Making decisions, Conditional – if ( )  then else ( )
     Lesson 4:      Fixing Errors, Bug and Debugging
     Lesson 5:      Looping with repeat, bounded loops
     Lesson 6:      Understanding Functions 
Bonus lessons (only worksheets, no Algorithm)
     Lesson A:      Introducing operations, greater, less  than. Boolean  - TRUE, FALSE
     Lesson B:      Introducing Variable, string and numeric  
     Lesson C:      Nested repeat - Loopy Loop 
 Weekly Trackers and Completion Certificate
                              Student Tracking Sheet
Certificate of Completion
           Solution and hints for Worksheets


CoderBunnyz program could be easily adapted at coding schools, home schools, workshops or school programs.
* Kids (all ages 4-104!) can learn at home
* STEM Labs or classroom instruction
* Technology camps
* Gifted Programs
* Tutoring
* Montessori
* After school program
* Workshops Maker space / Hacker space events
* Clubs such as Girl Scouts, Boy Scouts and more
Helper Bunny (Program facilitator, teacher or a lead student) could help with few simple steps. With 5 games it could cover a class of 20. Here is a breakdown on how the lab would look like -
* Setup the game - 5 minutes
* Explain the rules and setup maze - 10 min
* Play the game - 10-20 mins
* Write the algorithm - 10 mins
* The next lab sessions could use different maze or levels.
I am amazed at a lot of interest in my Lab program. Contact [email protected] for more details about questions on curriculum and program details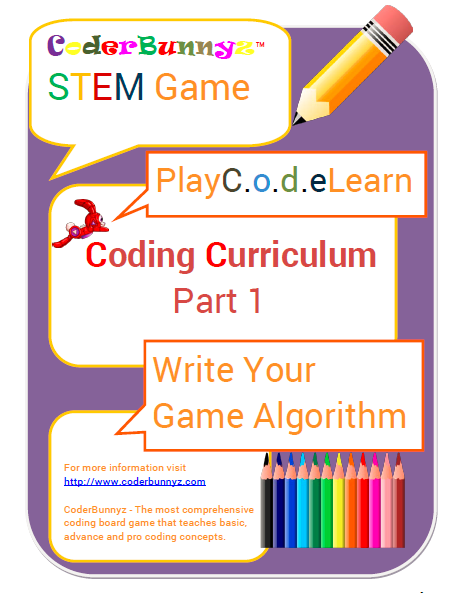 Featured at Maker Faire 2017